This is a book you must read!
Not the standard romantic wilderness tale, Out of the Wild is a very honest, warts and all, account of one young man's unique life journey, striving to survive for seven years in a very remote rainforest location on the west coast of New Zealand's South Island at  Jamestown Bay in the World Heritage Fiordland National Park; three days' walk away from the nearest road end.
Away from all the modern conveniences and comforts most take for granted, his tale is one of adversity, building a dream with dogged determination.
Battling against considerable and powerful opposition, bureaucracy, a severe lack of money, unforgiving nature, loneliness and ultimately his own ill health; only to find the dream fulfilled will almost destroy him.
A sometimes spiritual and critical tale of self-discovery.Out of the Wild is a story that exposes wilderness living as it truly is, not for the faint-hearted!
Contents
CHAPTER ONE History
CHAPTER TWO Acquisition
CHAPTER THREE Bureaucracy
CHAPTER FOUR Rainforest Graves
CHAPTER FIVE Errors of Judgement
CHAPTER SIX Disaster
CHAPTER SEVEN Building amongst the Podocarps
CHAPTER EIGHT Tragedy in the Pyke
CHAPTER NINE Alone in the Wilderness
CHAPTER TEN The Hollyford River
CHAPTER ELEVEN Silent Forest
CHAPTER TWELVE Another Chance
CHAPTER THIRTEEN Nephews
CHAPTER FOURTEEN The Tree of Mixed Blessings
CHAPTER FIFTEEN The Lost Ruby Mine & Women
CHAPTER SIXTEEN Blood
CHAPTER SEVENTEEN Bangs in the Night
CHAPTER EIGHTEEN Slow Enlightenment
CHAPTER NINETEEN Time to Depart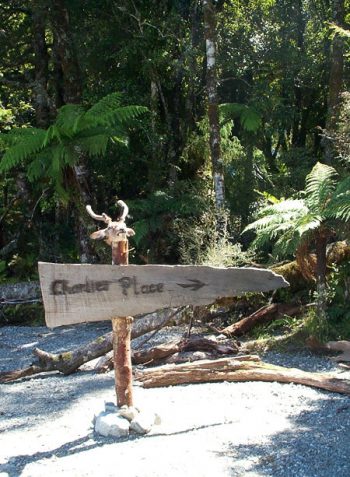 Out of the Wild is more than just a candid wilderness survival tale but includes some very interesting snippets of New Zealand's early pioneer history associated with the Fiordland National Park, the Hollyford Valley, the Hollyford Track, Martins Bay, the beautiful deserted ghost town of Jamestown Bay and even the fabled "lost ruby mine" in the inaccessible Red Hills of the Southern Alps. For the outdoor and "back to basics" enthusiasts Charlie details his accounts of hunting red deer in the thick Fiordland rainforest around his wilderness home to using the old traditional methods to store his kills, through to trapping introduced predators destroying the special rainforest ecosystems, to living off the smell of an oily rag. Out of the Wild is a unique New Zealand wilderness tale.
Soft Cover RRP @ $39.90 NZD
Free Postage (NZ only)
230 x 160mm
184 pages
Internal Colour Photos/Maps
ISBN: 978-0-473-41454-2
SOLD OUT!
Amazon Paperback @ $14.99 USD (Plus Frieght)
244 x 170mm
184 pages, 13.8 ounces
Internal Black & White Photos/Maps
ISBN-10: 1980245541
ISBN-13: 978-1980245544
Order from Amazon HERE
Kobo ebook
No Longer Available on Kobo
Amazon Customer
5.0 out of 5 stars Outstanding


February 27, 2018
Format: Kindle Edition
A truely humbling story of determination in the face of physical, bureaucratic, mental and spiritual adversity. It journeys through a life altering project from the highs of exciting optimism to the depths of despair. It shows that away from the close support of the modern world that we take for granted, how simple mistakes can easily become fatal. An unmitigated insight into the realities of living in one of the few remaining real wilderness areas left on the planet, and what it can cost you.
Amazon Customer
5.0 out of 5 stars An open, honest and highly engaging account of what …


February 8, 2018
Format: Kindle Edition
An open, honest and highly engaging account of what it really takes to live the wilderness life/dream. Charlie's story is one of perseverance in the face of adversity on a physical, social, emotional and spiritual level.
5.0 out of 5 stars Highly recommended for anyone interested in nature and human dynamics!

February 14, 2018
Format: Kindle Edition
I was given this book as a Christmas present by a friend, and ended up reading it over 2 days. It was an absolutely fascinating read into the real battle between a big government corporation and a small-time land owner over acreage in a national park in New Zealand. In this day and age of everyone having a cellphone strapped to their being, it was refreshing to read of a place and time where hard physical labor rules, where the battle begins at dawn and doesn't end with the setting of the sun, and where larger than life characters abound. The book takes the reader on a journey through the history of this national park, which is marked by sweat and tears, life and death, and modern day betrayal. It has all the required elements for a truly fascinating read, and is a must-read for nature and human fans, as it explores the elements of both. I would highly recommend it!
YEARS IN THE NEW ZEALAND WILDERNESS